"The neo-generalist wanderer often has to adapt to contextual shifts and reinvent themselves when circumstances call for it." (from The Neo-Generalist)
Recently, I finished reading an excellent book called "The Neo-Generalist," with the Zen-like subtitle "Where You Go Is Who You Are." Kenneth Mikkelsen and Richard Martin wrote this book – two authors that clearly have wandered between specializations, and learned a lot from it.
The book hits a current issue right on the head: Hiring managers and HR departments still focus most of their efforts on finding specialists. It seems to be the default view for everything. We have an issue here – let's call in an expert! It is reminiscent of kids' cartoons – the problems there are always clear, and a specialist can always solve them. As in Paw Patrol – they can dig, fly, stop traffic, pour water on fire, and more, focusing on one thing each to save the city over and over. But, as it turns out, the world is more complicated than that, and our work should follow. Yes, the world still needs specialists, of course. Meanwhile, there is a significant need to highlight the serial specialists/neo-generalists too. People who can draw experience from several different professional areas, and merge them into something new. For many of us, this is how we know we can bring value to the world, and we should nurture this. In one sense, it is like saying yes to the open, childlike curiosity we all have had at some point:
"Throughout our early lives we talk about what we want to be when we grow up. Then middle age hits and there is a slow realisation and gradual acceptance that, actually, we never grow up. The potential, the opportunity, remains to be many things." (from The Neo-Generalist)
It might be that you have experience from different professional areas, and want to support all your skills and interests. One way of making this understanding more concrete can be to create a simple map of who you are as a neo-generalist. This way of thinking is fully in line with the Personal Knowledge Mastery ideas I have learned from Harold Jarche – throw out half-baked ideas to see where they land. I will start with myself as an example, based on my interests and experiences: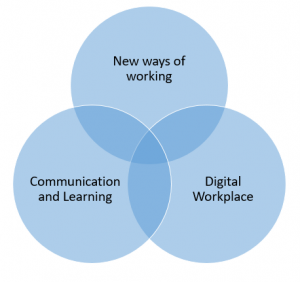 My current job title is "communications manager," but I have done many other things earlier in my life: technical writing, Ph.D. studies in educational sciences, writing and producing e-learning, taking care of intranets, and focusing on how new technology can help us evolve the workplace based on a healthy culture. If I place them together, it can be a bit easier to see where my different set of skills can take me. I can see how experiences of various disciplines can merge and support each other. And since I have practiced Personal Knowledge Mastery (PKM) for years, I also know which people can help and inspire me for each circle. Yes, this is an experiment, but I like the visual idea of mapping the serial specialist areas to see where they land. Start by looking at yourself right now, and then build a map. In a few years, it will probably change. A good thing that might come out of such an exercise is that you find what makes you unique. As Oscar Wilde said:
"Be yourself; everyone else is already taken."
I highly recommend the book The Neo-Generalist. It has grown on me, gives me new ideas every week, and has awakened a childlike curiosity. Thank you, Kenneth and Richard! I look forward to more discussions going forward.