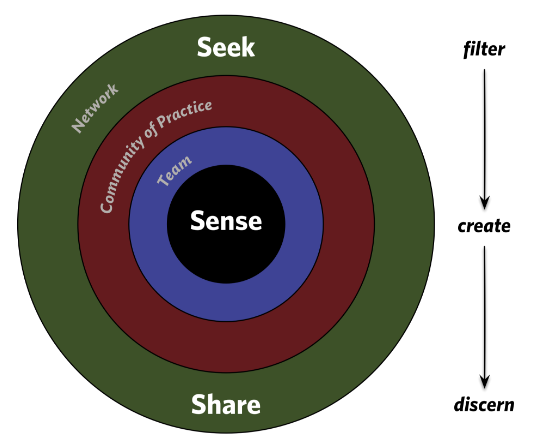 I have attended Harold Jarche's Personal Knowledge Mastery (PKM) workshop twice, and they have been wonderful learning opportunities. There is a kind of meta-learning involved that I seldom experience otherwise: I learn about how I learn.
One of the images Harold uses to describe PKM is this
Image borrowed from Harold Jarche's site
Harold describes PKM as:
PKM is a set of processes, individually constructed, to help each of us make sense of our world, work more effectively, and contribute to society. PKM means taking control of your professional development, and staying connected in the network era, whether you are an employee, self-employed, or between jobs.
Personal – according to one's abilities, interests & motivation.(not directed by external forces)

Knowledge – understanding information and experience in order to act upon it.(know what, know who, know how)

Mastery – the journey from apprentice to disciplined sense-maker and knowledge catalyst.(masters do not need to be managed)
After talking about PKM at conferences and aiming to apply it at work, I am now applying it in a new blog. Since I work in the automotive industry, there are many trends and technologies within artificial intelligence (AI) that will affect us. This is a fascinating area to me, marrying the most human aspects with the most technical. To keep track of all the top news in this area, I created a blog called The Deckard Blog – named after the main character in Bladerunner. An example post can look like this:
The blog gathers what I think are the best AI news, quotes them, and then groups them into subject categories:
This way I can, based on my own interest in and fascination in a subject, Seek the most relevant news, Sense by categorizing it and explaining it, and Share by posting on the blog.
I will see where this adventure takes me, but at least I have taken the first step.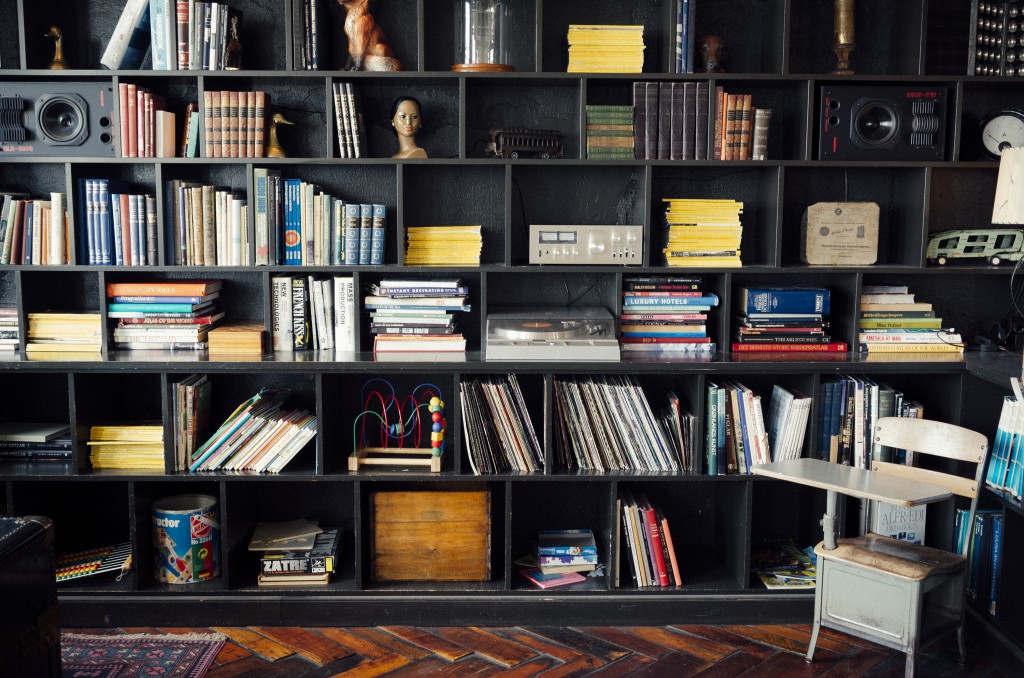 Since I started working with SharePoint, Content Types have been somewhat of a mystery. Especially when I want to tell others what it is, and how they can benefit. Often, we end up either too abstract ("A way of handling content") or too concrete ("Is it a Word file you mean?"). Thankfully, there are some great sources that can ease the pain, and let you win from using Content Types the correct way:
Lori Gowin, Microsoft Premier Field Engineer, devotes over an hour to Content Types, Managed Metadata, and You on the great Channel 9 MSDN site.
She starts off by stating the official definition of Content Types:
"Re-usable groups of settings for a category of content."
And then quickly says it doesn't tell her much, which is refreshing. Because it doesn't make much sense for end users either. Lori then goes on to saying that a Content Type can contain any or all of the following:
Template
Custom Forms
Metadata Columns
Workflows
Information Management Policies
Document Information Panel
Complex? Yes. Potentially very rewarding? Yes!
The next source, of many, is Benjamin Niaulin's Understanding SharePoint Content Types where he defines a Content Type as:
"Reusable set of columns used together that defines a type of content in your organization."
Yes, reusable is a key component here – not inventing the wheel as end users would know it. Benjamin emphasizes the demos in his webinar, making it easier for you to dive right into it and try. It is also a great start by talking about the difference between List/Library Columns and Site Columns, and how this links to the Content Query Web Part (CQWP).
Microsoft has a lot to offer on SharePoint, of course. One such page is their Plan content types and workflows in SharePoint 2013,  where their definition is:
"A content type defines the attributes of a list item, a document, or a folder."
More importantly, they offer an Excel file that lets you record everything they discuss on that page. Very handy!
Once you know the basics, there are many videos around describing how to add them. One example is Peter Kalmstrom's Use Content Types in SharePoint 2013 of Office 365, showing how to use both SharePoint and SharePoint Designer.
Lynda.com also delivered the SharePoint tutorial: Understanding content types, where they go through the basics in under 7 minutes.
What if you want to use SharePoint, but skip this whole Content Type thing? Well, you can't, as Bjorn Furuknap describes:
"Your only choice to avoid using content types is not to use SharePoint. All data stored in SharePoint is stored using a content type."
So, if you use SharePoint, you might as well learn to love and use Content Types. My advice is that you start from the above and move down among my links. These presentations have helped me go deeper into this complex subject.
For some unknown reason, Microsoft has not included "Automatically upload to SkyDrive" in their Android version of the SkyDrive app. Why they ignore the needs of so many users is a mystery, since such a function would drive more people to  using their service.
Here is a way to get around the problem using their competitor DropBox:
1. Install DropBox and SkyDrive on your computer.
2. Download the Dropbox app for Android and the SkyDrive app for Android.
3. In DropBox on your Android, go to Settings. Under "CAMERA UPLOAD", you make sure this feature is turned on. This enables Dropbox to upload your photos automatically. Select only via Wi-Fi to save data and make it work quicker.
4. Download Goodsync or something similar. This software can sync files on your computer and connect it to a myriad of online services.
5. Set Goodsync to sync between the folder on Dropbox your camera uploads its images to, and the folder in SkyDrive where you want the images.
Now your Android photos will also be available in SkyDrive. Yes, it feels a bit stupid and unnecessary, but until Microsoft wakes up to the hundreds of millions of Android users, this is one way.