As my followers know, I have written about the digital workplace for some years. Lately, however, I have grown somewhat tired of it: It seems we either only talk about the latest semi-smart upgrades in Office 365 and how they can be used, or some futuristic views of how we will work in 5 years from now. In one sense these are interesting subjects. In another sense, they are somewhat boring, repetitive, and distant. Some days, I couldn't care less about the tools Microsoft throw at us, and how they relate to Slack. Meanwhile, I have started a blog on Machine Intelligence, and oh that has opened my eyes. Suddenly, I see more of the woods instead of just staring at the trees, and where we look is the deal breaker:
"Every man takes the limits of his own field of vision for the limits of the world."
― Arthur Schopenhauer, Studies in Pessimism: The Essays
By expanding my field of vision, the limits of my world are moved further away. Then there are other writers who help me understand the world. One such example during the last months is Gloria Lombardi's compilation of what she refers to as the future of work predictions for 2017. A line of smart people present their views on what they think will come this year, and here is my quick interpretation of the things the interviewees talk about: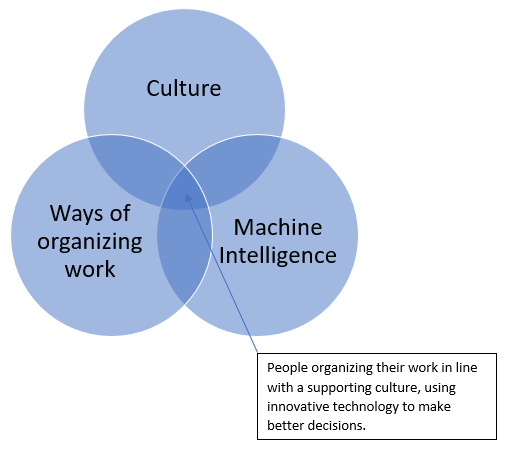 Very short version: If you don't take care of your employees and the exponential technology that is coming, the smart employees will leave and you will lose business deals while feeling left behind.
I have written and spoken about corporate culture before, and I have just entered the world of Machine Intelligence. Now I read more about the ways we organize work, including the Gig Economy which I honestly don't see coming as fast yet but maybe it is. We should never think entrepreneurs are the only ones to save the world – the intrapreneurs are crucial here. Don't underestimate the existing industrial companies.
So, let's look at what Deloitte says about Machine Intelligence:
Collectively, these and other tools constitute machine intelligence: algorithmic capabilities that can augment employee performance, automate increasingly complex workloads, and develop "cognitive agents" that simulate both human thinking and engagement.
Exponential data growth is requiring Personal Knowledge Management for individuals, faster-distributed systems are democratizing information handling, and smarter algorithms help us process information to understand the world better. Combine these with the strong positive cultures we need, and the new ways we should trust the coworkers no matter where they are, and an interesting painting is forming. Trust me: Companies who miss this train, will for sure be left behind.
And on that note, we might as well focus on something important while working, and maybe this is the middle of the three rings: The purpose that the culture, machine intelligence, and ways of organizing work creates. The company I work for creates brakes and other safety equipment for large trucks and trailers. We all want them to stop instead of running into us, and we want them to be kind to the environment. We are also very focused on the culture we nurture and create, while keeping a close eye on the technology that is evolving. I think these are all keys to the great kinds of workplaces we look for.
If you think you lack a purpose, which is alarming since a purpose is the jet fuel in our tanks, you can always look at the upcoming possibilities. Just look at World Economic Forum which helps us zoom out and see the big picture, as in 5 global problems that AI could help us solve.
There is a lot of thought work left to be done from many people, to understand this. Thankfully, a lot of people are engaged in this, and I follow them closely.