This is the fourth post in my journey towards working with a humane digital workplace. It started with "Building a humane digital workplace" (listing the 5 Cs) and followed up with "Connect – the first C and the humane digital workplace" plus "Communicate – the second C and the humane digital workplace".
The third of the Cs is Collaborate, and the 30.000 feet overview of our intent with Collaborate is:
Focus on the team
Engage and work together
True team player
Appreciate diversity
Here, my first thought immediately went to Personal Knowledge Mastery (PKM) and the work of Harold Jarche. He mentions collaboration and cooperation in several posts, such as "In networks, cooperation trumps collaboration" (2012), "Extending collaboration toward cooperation" (2013), and "Retrieving cooperation" (2014). Should we, in a professional environment, ignore the collaboration and go for the cooperation instead? I would say no: We all need to start where people often do their daily business, and then incorporate more. It is not either-or.
In the 2012 post above, Harold posts the continuum all organizations live on: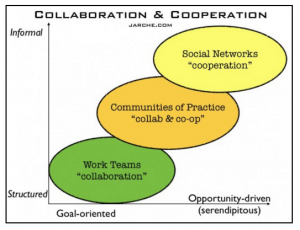 By starting in the structured and goal-oriented corner and collaborating in work teams, we can accomplish a lot. Collaboration is not worse than true cooperation. In fact, as Harold shows in "Cooperation in the networked workplace" (2013), they complement each other:

One goal for us on the journey towards a humane digital workplace, could be moving towards cooperation. With a sound base in Work Teams, we can incorporate more Communities of Practice and Social Networks along the way. We already explore these in our company, but we could engage even more people and use the right tools to do it.
There are also other things I have started relating to Collaborate, when it comes to typical things mentioned in the digital workplace:
It must be easy to create and maintain virtual teams, no matter your device. This could be done in tools like Yammer or Slack.
We make it mandatory to fill in your expertise and your photo on out intranet, so others can find you easily.
We could set KPIs that measure that you have actively contributed via the collaboration channels we provide. Exactly how, I am not sure of yet (or even of we should do it). But we could surface the fact that you engage actively in collaboration also in the social sphere.
Other thinkers that can guide us here are for example (there are of course many more):
We could probably do more in exploring which tools fit Collaboration, Communities of Practice, and Cooperation. The above posts are great. Meanwhile, we get several new tools per year it seems, but now we have a continuum to measure them against.